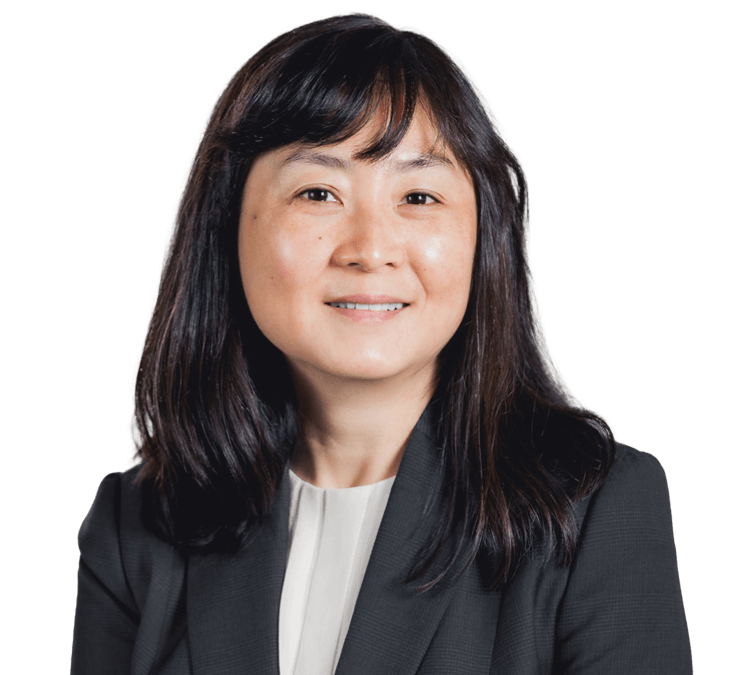 Bin Wang, Ph.D., is a biologist-turned-attorney focusing her patent practices on biotechnology and pharmaceutical inventions.
Bin has represented biotech, pharmaceutical, and venture capital companies and academic institutions in patent drafting, prosecution, global portfolio development, and invalidity and non-infringement analyses. Bin has advised clients on numerous matters relating to oncology, immunology, cell biology, molecular biology, microbiology, and biochemistry, including matters in the following technology areas:
Antigen-binding molecules including diagnostic and therapeutic antibodies for oncology, infectious disease, autoimmune, and inflammatory indications
Peptide vaccines
Transgenic and gene therapy approaches, including CRISPR-based gene editing
Linear and circular RNA therapeutics
Engineering and screening of drug delivery carriers, including adeno-associated viruses (AAV) and lipid nanoparticles (LNP)
Cell-based therapeutics using chimeric antigen receptor (CAR) cells, embryonic and adult stem cells, and erythrocytes
Small molecule therapeutics using hormones, kinase inhibitors, cytokine-modulating agents, and anti-aging agents
Methods of treating or preventing cancer, viral and bacterial infections, autoimmune and inflammatory diseases, neurodegenerative diseases, ischemic stroke, bone marrow failure, preterm labor, mitochondrial neurogastrointestinal encephalomyopathy, uterine contractility disorders, and systemic endotoxemia
Personalized medicine for cancer, neurodegenerative diseases, liver diseases, and traumatic brain injury
High-throughput omics including single-cell genomics, RNA-seq, and proteomics, as well as epigenomics and microbiomics
Protein nanowires
Bin Wang received her Ph.D. in Molecular Biology. She was a postdoctoral fellow at Stanford University, and a postdoctoral fellow and Research Assistant Professor at The University of Texas Health Science Center in San Antonio. Bin was a recipient of the Stanford University Dean's Postdoctoral Fellowship, the NIH Individual National Research Service Award, and the American Heart Associate Early Career Award.
Dr. Wang is the author of over twenty peer-reviewed scientific articles in journals such as Nature, Nature Immunology, Cell, Development, Human Molecular Genetics, Journal of Biological Chemistry, Journal of General Physiology, American Journal of Physiology-Lung Cellular and Molecular Physiology, Molecular Psychiatry, Invertebrate Neuroscience, Experimental Biology, Neuroscience, European Journal of Neuroscience, and Frontiers in Physiology. Dr. Wang wrote two book chapters, one for Encyclopedia of Basic Epilepsy Research and the other for Ion Channels, Methods and Protocols.
Dr. Wang got her law degree from Baylor Law School, where she received Dean's Academic Excellence Full Scholarship, Jim Barlow Memorial Award, Loy M. Simpkins Memorial Award, and Thomas M. Featherston, Jr. Estate Planning Award. In addition, she served as a judicial extern at The Eastern District of Texas with Magistrate Judge K. Nicole Mitchell.
Credentials
Bar Admissions
U.S. Patent and Trademark Office
Texas
Education
B.S. in Genetics, Fudan University, Shanghai, China
J.D., cum laude, Baylor University Law School
Ph.D. in Molecular Biology, University of Texas
Practice Areas
IP Diligence
Patents
Trademarks
Technologies
Bioinformatics
Biologics & Immunotherapies
Biotechnology & Life Sciences
Medical Devices
Pharmaceuticals
Professional Associations
American Bar Association, Member of Intellectual Property Law, Science & Technology Law, and Litigation Sections
Member of the Biophysical Society; the American Heart Association
Reviewer, Proceedings of the National Academy of Sciences of the USA, 2014; PLOS ONE, 2013