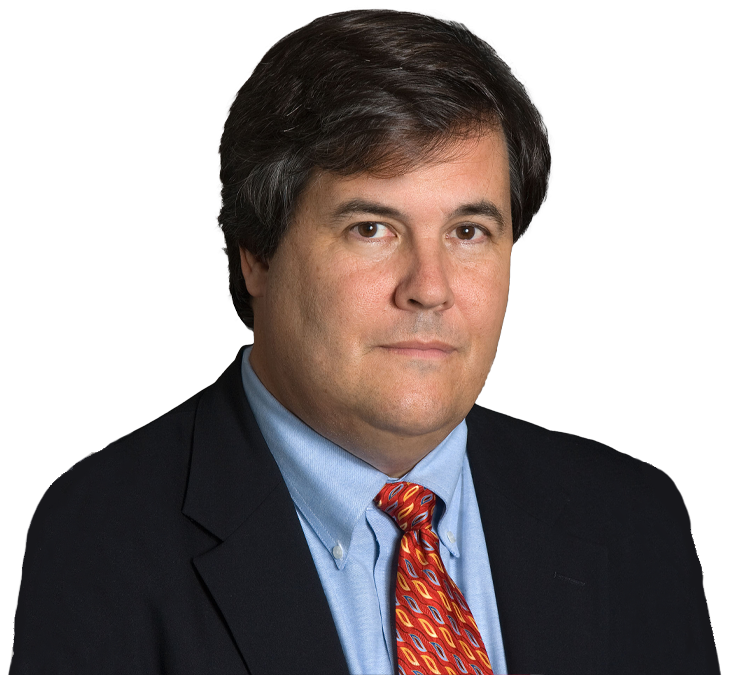 Brian's practice focuses on all aspects of intellectual property law and counseling.
His practice includes acting as first-chair counsel for many patent and IP litigations involving a wide variety of subject matters including pharmaceuticals, biotechnology, telephony, and software. Brian is often the lead investigator for IP diligence and IP transaction advice on corporate deals involving pharmaceutical, biologic, and medical products, among many areas, involving billions of dollars in sales. Brian also manages patent portfolios and patent prosecution in a variety of subject matters areas, including pharmaceuticals, biologics and, medical devices.
Brian is one of only a handful of registered patent attorneys in the U.S. who also has served as an Assistant U.S. Attorney. He served in the United States Department of Justice, Criminal Division, in New York City. There he received numerous awards and commendations for his work as a Federal Prosecutor. Brian served as First Chair in many high profile federal criminal trials and federal grand jury investigations in conjunction with the FBI, DEA, Secret Service, U.S. Customs, NYPD, and many other law enforcement agencies. Brian has maintained many of his government contacts and recently has worked with FBI units focused on the theft of U.S. trade secrets and intellectual property.
Credentials
Bar Admissions
U.S. Court of Appeals for the Federal Circuit
U.S. Court of Appeals for the Second Circuit
U.S. Patent and Trademark Office
Massachusetts
New Jersey
New York
Various federal trial and appellate courts around the country
Education
B.A. in Mathematics, Boston College
J.D., cum laude, St. John's University School of Law
Practice Areas
Agreements
Copyrights
Counseling
Design Patents
IP Intelligence and Audits
IP Litigation
Licensing
Patents
Post-Grant Proceedings
Trade Secrets
Trademarks
Technologies
Biologics & Immunotherapies
Biotechnology & Life Sciences
Business Methods
Chemistry
Computer Software
Electrical Engineering
Medical Devices
Pharmaceuticals
IP Litigation
IP Litigation Experience
Pharmaceutical and Life Sciences Patent Litigation
Represented a holder of an Orange Book patent in 505(b)(2) challenge to patent.
Represented an owner of patent in action against licensee for failure to abide by license.
Represented an owner of a patent in action against generic drug applicant in Hatch-Waxman litigation.
Represented owner of medical device patents and technology against infringers.
Represented an owner of a biotechnology patent directed to a diagnostic method against the infringer.
Successfully represented multiple generic drug manufacturers in multiple different ANDA challenges to pharmaceutical patents collectively covering in excess of $10 billion in market values, including challenges to compound patents, method of use patents, formulation patents and polymorph patents, among many other Orange Book listed patents.
Represented a generic pharmaceutical company with valuable "first filer" status. We persuaded the brand pharmaceutical company that our client did not infringe its patents. No suit was ever filed.
Represented an owner of patent directed to an antibacterial product resulting in a successful settlement.
Defended several different pharmaceutical companies in several different patent infringement actions in the U.S. District Court for the District of New Jersey and Delaware, involving pharmaceutical patents.
Represented developer of a biologic animal model against an infringer.

Computer, Business Methods and Electrical Arts Patent Litigation
Represented an owner of patent for a device used with smartphone in a series of successful litigations and licensing negotiations.
Represented an owner of an e-commerce patent directed to paperless ticketing technology in litigations and other matters.
Represented a computer hardware manufacturer in an action brought by a Non-Practicing Entity.
Represented an owner of patents directed to e-commerce methods of providing consumer incentives and marketing methods against a competitor resulting in a successful settlement.
Represented a manufacture of ink for printers in an action brought by competitor.
Represented a human resource software developer in patent litigation.
Represented a manufacturer of optical technology in litigation and U.S. Patent and Trademark Office proceeding against a competitor resulting is successful global settlement regarding technology.
Represented a leading maker of data storage devices against a Non-Practicing Entity resulting in a very favorable settlement for our client early in the litigation.
Represented a large international software company in an action brought in the Eastern District of Texas by a Non-Practicing Entity that resulted in a favorable settlement after a period of focused discovery.
Represented software developers in an action brought in the Eastern District of Texas and other jurisdictions by a Non-Practicing Entity.

Other Patent and IP Litigation
Represented a manufacturer of plush toys in a patent action brought by competitor resulting in successful settlement.
Represented a software company in a defamation action against a blogger resulting in a successful settlement.
Defended a start-up company in two separate actions filed in the Central District of California based on patents related to hardware.
Represented a Taiwan-based manufacturing firm against infringement claims under two patents asserted by a multinational company. We succeeded in obtaining summary judgment of non-infringement on one of the patents, which led to successful mediation that resolved the claims under the other patent.
IP Diligence and Post-Acquisition
IP Diligence and Post-Acquisition Enforcement Experience
For more than a decade, Brian has conducted IP diligence for a variety of investors, funds, and companies involving dozens of transactions comprising billions of dollars in value.
This work included:
Evaluating the strength and viability of patents and other IP rights protecting revenue streams, as well as an assessment of competitors' patents.
Evaluating inventorship, patent assignments, patent ownership and transfer of property.
Evaluating and predicting the outcome of existing and future litigations concerning patents, FDA exclusivities, licenses, and other IP rights and conducting "war games" to test litigation strategies.
Advising and/or drafting corporate transaction documents to the extent they relate to IP issues and working closely with corporate counsel.

The first step, often, in a diligence investigation is to develop a deep understanding the essential terms of the underlying transaction, including the type and length of investment. The client's concerns in an equity investment are considerably different than with a debt instrument. Brian then identifies the essential patents and IP that protect the most important products and/or revenue or expected revenue streams central to the transaction. Once the framework of the transaction and IP is identified, Brian and his team at Hamilton Brook Smith Reynolds dig deep into the details by evaluating IP documents, prior art, scientific literature, existing and expected litigation, as well as FDA exclusives and approvals, and patent file histories. He also interviews inventors, technology officers, and others to obtain a broad and focused view of the strengths and weaknesses of the IP in question. Brian's work has provided investors and operating companies with a full picture of the IP strengths and risks which allowed clients to make a thorough evaluation of their prospective investments. Brian has also worked with clients after the investments have been made to interpret and enforce critical provisions of underlying patents, licenses, and deal documents. Brian's post-transaction enforcement work has involved negotiations, alternative dispute resolution, such as mediation, and litigation in federal courts.
Professional Associations
New Jersey Intellectual Property Law Association
Speaking Engagements