An autonomous vehicle requires little or no human input to navigate.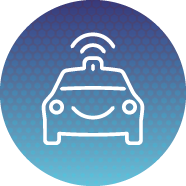 It can be fully autonomous or provide partial assistance, such as lane guidance, pre-collision braking, self-parking, or automated highway control. Autonomous vehicles are also commonly referred to as self-driving, driverless, or robotic cars.
Engineering autonomous vehicles utilizes diverse hardware and software expertise. HBSR's attorneys, patent agents, and technical specialists offer a variety of backgrounds related to this technology, such as computer science, physics, artificial intelligence, as well as computer, electrical, and systems engineering. In addition to their background in autonomous vehicles, the members of our patent team also have significant experience with robotics, machine learning, image processing, and global positioning systems (GPS). In particular, the relevant technical specialties of our legal staff include:
Fault detection
Global Positioning Systems (GPS)
Human-to-machine interfaces
Image processing
Inertial Measurement Units (IMU)
Lidar sensors
Localization processes
Machine-to-machine interfaces
Mobile technology
Navigation processes
Radar sensors and radar arrays
Telecommunications
Testing platforms
Vision systems (e.g., stereo vision and monovision systems)
We have filed patent applications directed to adding an autonomous architecture to any existing vehicle, integrating data from multiple types of sensor systems, and geopositioning. Other patent applications are directed to testing platforms, methods for object detection using mobile phone data, and methods for fault-tolerant detection.