The field of mechanical engineering is broad, encompassing the disciplines of engineering, physics, as well as aspects of materials science.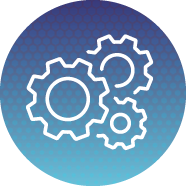 Mechanical engineering is applied in the design and manufacture of countless items, including small printer nozzles, large spacecraft, medical devices, and everyday consumer products.
We have prosecuted applications and obtained patent protection for inventions in various fields related to mechanical engineering, such as:
Acoustical engineering, including noise-canceling technology
Aerospace
Automotive components
Biomechanics
Composites, such as carbon-fiber goods
Construction equipment
Consumer products, including electronic viewing eyewear, sporting goods, and exercise equipment
Industrial equipment and machinery, including precision measurement tooling, injection molding, and extrusion, as well as chip manufacturing and processing
Nanotechnology tools
Medical devices and equipment
Micro electro-mechanical systems (MEMS)
Packaging, including paperboard, plastic, and composites
Robotics
Our attorneys have prosecuted applications for a myriad of mechanical devices. The technical experience and training of our legal staff spreads across numerous mechanical fields, including aerospace, automotive, heavy industrial machinery, clean energy, and fastener technology. The attorneys of Hamilton Brook Smith Reynolds also have industry experience, including working commercial and military aviation, building manufacturing machinery, and developing software to run power turbines.
In the mechanical engineering discipline, our firm has successfully obtained patent coverage for a wide variety of products that include computer housings, monitors, bags, footwear, jewelry, furniture, household appliances, and unfolding architecture structures. We have also patented electronic viewing eyewear that allows the viewing of video or electronic images in an eyeglass format.
Our litigation experience includes:
Represented a technology development consulting firm against one of its clients that is among the world's largest integrated circuit manufacturers, for misappropriation of our client's intellectual property rights in certain MEMS technology. The conflict was resolved by the manufacturer assigning to our client the patent applications that the IC manufacturer had filed on the inventions. In addition, the IC manufacturer paid our client's legal fees.