New England Section of Optica Event on "System-aware PIC Design for LiDAR, Quantum, and Telecom Applications"
When
December 14, 2023
6:00 - 8:00 PM
Where
Hamilton Brook Smith Reynolds
55 Old Bedford Road
Lincoln, MA 01773
Hamilton Brook Smith Reynolds will host the New England Section of Optica's event in our Lincoln office on December 14, 2023.
This is a hybrid event.
Event Abstract
This talk will present a system-aware photonic integrated circuit (PIC) design approach. Our discussion will focus on the innovative capabilities of the VPIphotonics Design Suite, which seamlessly integrates industry-leading optical transmission system simulations with our PIC design solution. We explore how this integrated approach empowers researchers and engineers to design cutting-edge PICs while gaining a comprehensive understanding of how these PICs impact the overall system performance. We'll demonstrate our schematic-based PIC design process through real-world examples and investigate implications for diverse applications such as LiDAR, Free Space Optical (FSO) satellite links, Quantum Key Distribution (QKD) systems, or direct detect/coherent telecom systems.
Agenda
Dinner: 6:00 – 7:00 PM
Presentation: 7:00 – 8:00 PM
Speaker
Eugene Sokolov
VPIphotonics, Principal Application Engineer and a Solution Owner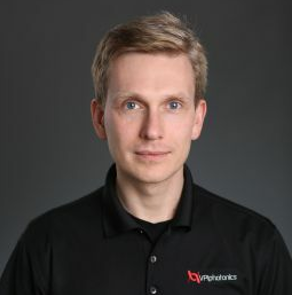 Eugene Sokolov is a Principal Application Engineer and a Solution Owner at VPIphotonics. He joined the company in 2010 and is currently part of the US Solutions Center team. Eugene has over 10 years of experience in the development of industry leading photonic design automation (PDA) products and particularly in the modeling of next generation photonic integrated circuits (PICs), photonic and optoelectronic devices. He leads in the development of the standardized Process Design Kits (PDKs) and interoperability between circuit-level simulators and mask layout/electronic design automation (EDA) tools. Eugene received his MSc. Degree in Physics (Laser Physics) from the Belarusian State University.