Medical imaging involves creating visual depictions of the interior of the body or tissues.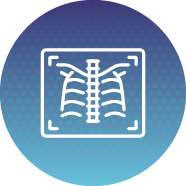 Developments in the field are for both the products that perform the imaging and the methods by which they operate.
Our firm's practice includes experience with:
Endoscopy
Fluorescence-mediated molecular imaging
Magnetic resonance imaging (MRI)
Medical ultrasonography (ultrasound)
Thermography
Tomography

Optical coherence tomography (OCT)
X-ray tomography
Positron emission tomography (PET)
Our attorneys are well-versed in medical imaging technology. Their academic and industry-related backgrounds include mathematics, physics, engineering, optics, biology, and chemistry.
In the area of medical imaging, we have drafted and prosecuted cases on patent applications in optical coherence tomography for a well-known Boston academic institution as well as worked cases in fluorescence-mediated molecular imaging. Our firm has also drafted patent applications directed to an endoscopic device utilizing the optical coherence tomography technique. Hamilton Brook Smith Reynolds can handle any litigation needs in the medical imaging area.
Our litigation experience includes:
Represented a defendant against patent infringement claims relating to Picture Archiving and Communications Systems ("PACS") for medical imaging equipment.