Artificial Intelligence (AI) is a prominent and expanding area of research and innovation.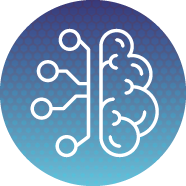 Autonomous machines can decide how to react to the real world and learn from their decisions, software can identify faces in an image of a crowd of people, and smart home devices are able to control aspects of your house after learning patterns from human requests. In recent years, breakthroughs in machine learning using neural networks, which mimic the processes of human neurons, coupled with the availability of near limitless cloud resources have enabled the development of novel AI solutions to previously unsolved problems. Innovators developing AI solutions should consider an intellectual property strategy, including patents to protect their ideas in this growing field.
Our attorneys, patent agents, and technical specialists have a variety of backgrounds related to AI, such as computer science, electrical and systems engineering and applied math. Relevant technical specialties of our legal staff include, for example:
Neural Networks
Machine Learning
Pattern Recognition
Speech Recognition
Image Processing
Bioinformatics
Medical Diagnostics
Prediction Systems
Topological Data Analysis
Automated Computer Code Generation
Recommendation Engines
Handwriting Recognition
Our firm assists clients in obtaining, developing, and managing their intellectual property assets in this exciting and rapidly developing area. In addition to holding degrees in computer science, computer and electrical engineering, and physics, many members of our professional staff have earned advanced degrees in these fields.
Our firm has prepared patent applications directed to those areas listed above and more specific examples include disease analysis, drug efficacy prediction, automated medical diagnostics, automated generation of computer source code, product sales prediction, and automation in CAD systems. Our firm represents a client in protecting innovations related to robotics for food processing. For one of our cybersecurity clients, we patent neural network-based technologies for detecting and mitigating phishing attacks.