Electrical engineering involves the development of technologies through applying the physics and mathematics of electricity and electromagnetism.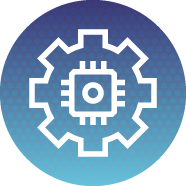 The field of electrical engineering encompasses a vast range of technology, from tiny integrated circuits to large power generation and transmission systems.
Hamilton Brook Smith Reynolds works with electrical engineers and other inventors to protect their intellectual property in areas such as:
Electronics

Analog and digital circuits
Computer hardware
Electrical Devices
Infrared and electromagnetic sensors
Integrated circuits
Microelectronics
Memory devices and systems
Robotics
Semiconductor technology

Control Systems

Manufacturing process monitoring and control circuits
Microcontrollers
Open and closed loop feedback systems
Motion control using state space controllers

Communication and Signal Processing

Audio and video processing
Computed Tomography (CT) imaging
Digital signal processing
Global positioning systems
Image processing
Mobile technologies
Network infrastructure
Optics
Radio frequency technologies
Sonar technologies
Telecommunications
VoIP and video conferencing
Wireless networks

Power Systems

Clean technology
Electric motors and generators
Energy storage
Power supplies
Our attorneys have the industry experience and educational background to understand the technical aspects of these types of inventions. Their educational and professional backgrounds enable them to effectively communicate with electrical engineers, understand their goals, and obtain the most effective intellectual property protection for their inventions.
Successfully represented a major integrated circuit manufacturer in patent litigation against its chief rival.