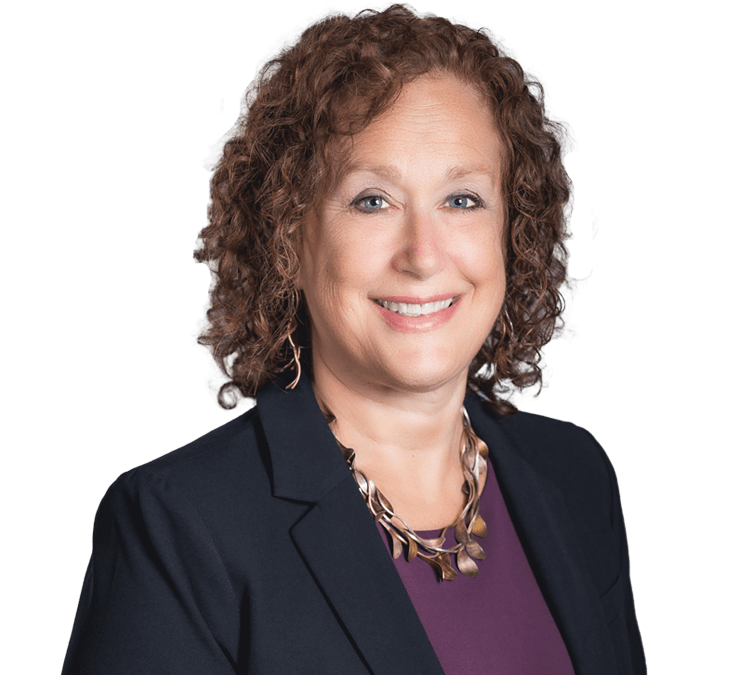 Susan, a patent attorney, represents science and technology companies in all facets of invention enforcement and protection from the courtroom to the Patent Office.
Susan uses analysis, communication, and advocacy to achieve clients' goals in patent, trademark, copyright, trade dress, and trade secret matters. Her experience covers a broad spectrum of technologies and industries, including biotechnology, chemistry, electrical, mechanical, green technology, ecommerce, medical devices, and consumer products.
Susan has wide-ranging experience representing national and international clients enforcing patents and defending against patent infringement actions through means tailored to the particular business and circumstances. Susan handles patent disputes in courts throughout the country and before the United States Patent and Trademark Office. Her experience handling contested matters before the Patent Office as a Registered Patent Attorney for more than three decades enables her to develop and carry out effective strategies in interrelated courtroom and Patent Office proceedings. Susan is equally adept at pursuing and defending against enforcement actions and contested matters in the trademark realm.
Experience
Achieved preliminary injunction against continued infringement of client's patents, and succeeded in having defendant found in contempt, with an award of attorneys' fees, even though the injunction was dissolved based on newly discovered prior art.
Stopped infringement of client's trademark rights by obtaining injunction shortly after the filing of the complaint. The injunction, issued by The Honorable Joseph Tauro after a Hearing, resulted in settlement of the matter with the entry of a permanent injunction and payment of our client's attorneys' fees.
Convinced company that had threatened patent enforcement not to pursue matter by demonstrating prior art and literature that questioned the validity of the patent.
Defended against a complex portfolio of interrelated patents directed to bioreactors and mixers for use by the biotech industry resulting in resolution shortly after deposition of patentee's prosecuting attorney.
Defended against patent infringement action involving LED backlight technology and light enhancing films in the U.S. District Court for the District of Delaware. A defense strategy was formulated including discovery, mediation, and depositions to achieve a very favorable settlement for our client within ten months of service of the complaint, on the eve of our taking the inventor's deposition.
Enforced multiple patents involving sampling devices and related mechanical device in multiple courts, resulting in a mediated and negotiated resolution with competitor.
Achieved dismissal of a patent infringement action for lack of personal jurisdiction.
Achieved goal of Markman and summary judgment Hearing in the initial phase of litigation in representing an academic institution in a patent case against a major technology corporation involving technology related to speech analysis, compression and transmission. .
Achieved cessation of infringement of patents on pool cue couplers by pursuing multiple competitors in a succession of actions and obtaining consent judgments in favor of our client.
Stopped false advertising and trademark infringement by client's competitor by bringing a complaint and motion for preliminary injunction, resulting in consent judgment.
Achieved immediate concession of priority in interference on diagnostic involving a nucleic acid.
Negotiated early dismissal of client from multi-party lawsuit alleging infringement of patents directed to molecular cloning and expression of protein coupled receptors.
Achieved voluntary dismissal of complaint alleging Lanham Act and other claims against our client and obtained payment by client's insurance company of all attorneys' fees for representing client.
Counseled a start-up biomedical and diagnostic company in negotiating a license to platform technology.
Prepared combined software-hardware use license with service agreements for a corporate maker of chemical and bio-tech manufacturing process equipment and components.
Credentials
Bar Admissions
U.S. Court of Appeals for the Federal Circuit
U.S. District Court, District of Massachusetts
U.S. Patent and Trademark Office
U.S. Supreme Court
Massachusetts
New York
Various federal trial and appellate courts around the country
Education
Newton (North) High School, 1973
B.S. in Chemistry, University of Vermont, 1977
J.D., Boston University School of Law, 1980
Practice Areas
Agreements
Copyrights
Counseling
Design Patents
IP Audits
IP Diligence
IP Litigation
Licensing
Patents
Post-Grant Proceedings
Trade Secrets
Trademark Opposition & Cancellation Proceedings
Trademarks
Technologies
Biologics & Immunotherapies
Biotechnology & Life Sciences
Business Methods
Chemical Engineering
Chemistry
Clean Technology
Computer Software
Energy Storage
Materials Science
Mechanical Engineering
Medical Devices
Mobile
Pharmaceuticals
Robotics
Semiconductors
Speaking Engagements
Professional Associations
American Arbitration Association - National Roster of Neutrals
American Bar Association – Litigation Section
Boston Intellectual Property Law Association (BIPLA) - Past President; Former Co-chair Antitrust and Contested Matters Committees; Founder, Member and prior Co-Chair Litigation Committee
International Trademark Association
German-American Business Council of Boston - Former Board Member
Federal Bar Association of Massachusetts– IP Section