Chemical companies invest billions of dollars annually in research and development to support innovation.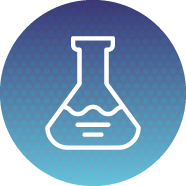 In fact, a major portion of U.S. patents relate to chemistry. These patents include life-saving medical treatments, automobile safety improvements, and clean energy technologies, to name a few. Hamilton Brook Smith Reynolds is on the forefront of chemistry patent protection.
In the field of chemistry, we have expertise in the following:
Chemical engineering
Combinatorial chemistry
Composite materials
Food science
Green chemistry
Inorganic chemistry
Materials chemistry
Nutraceuticals
Organic chemistry
Organometallic chemistry
Pharmaceuticals
Physical chemistry
Polymer chemistry
Semiconductors
Superconductors
Our educational background and experience matches the broad reach of these aforementioned sciences. Legal experts at our firm have earned academic degrees and worked in the fields organic and physical chemistry, biological and computational chemistry, chemical engineering, materials science, and biology.
Our attorneys keep pace with clients' objectives by understanding the technology in which each client specializes and by aggressively protecting the full scope of each client's technical achievements. For example, in the pharmaceutical field, we have met clients' patent needs for antibacterials, anti-obesity drugs, and diabetes drugs. We also have experience using polymers as semiconductors.
We have obtained patents in almost every aspect of the chemical arts as well. Examples of our work are modeling thermodynamics of chemical manufacturing and enabling higher efficiency of distillation columns by predicting operation closer to the flood point of a distillation column at any combination of liquid and gas flow rates. Physical chemistry also includes applications of diffusion processes, such as filtration of blood toxins across a membrane in dialysis treatment, for which we have obtained patents for wearable artificial kidney devices and high-efficiency filtration of blood toxins.
Our litigation experience includes:
Prepared combined software-hardware use license with service agreements for a corporate maker of chemical and bio-tech manufacturing process equipment and components.
Represented clients in four separate appeals to the Federal Circuit, relating to such diverse technologies as contact lens chemistry, pharmaceutical technology, automobile user interfaces, and banking systems.
Defended several different pharmaceutical companies in several different patent infringement actions in the U.S. District Court for the District of New Jersey and elsewhere, involving pharmaceutical formulations. We were able to negotiate favorable settlements for our client that were each reviewed without objection by Federal Trade Commission.
Defended an action in the District of New Hampshire involving alleged infringement of several patents directed to a chemical composition for stripping metal, the action having been brought by the industry leader. The action successfully concluded with a reformulation of the compounds to avoid any infringement and without any payment by our client to the patent holder.