For companies involved in the medical device field, protection for technological developments is critical.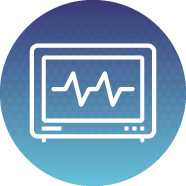 Medical devices, such as those used for diagnosis and treatment, often involve a multifaceted approach spanning a number of scientific, medical, and engineering disciplines.
Our firm's practice in this area extends to the protection of innovations in a broad range of fields, including the following:
Cardiovascular devices, including stents, catheters, pacemakers, and blood pressure cuffs
Cosmetic surgery, such as dental devices used by orthodontists
Devices for treatment, such as dialysis for the treatment of kidney failure
Disposable products, such as syringes, tubing, and multiport fluid access devices
Material science, such as surgical screws
Minimally invasive devices, such as endoscopic devices and implants
Optical devices
Orthopedics, such as knee and hip replacements, prosthetics, spine devices, and braces
Patient monitoring systems, including pulse monitors for fingertips and EKG leads
Radiation therapy devices, such as particle accelerators and proton irradiation systems
Robotics for medical procedures
Our attorneys practicing in these fields have experience in the health care industry and grasp the complexity of these inventions and the highly competitive business environment in which they are developed. They hold degrees in electrical, mechanical, biomedical, and chemical engineering, as well as chemistry and physics. Our educational and work backgrounds enable us to communicate with our clients efficiently and to understand their goals. Therefore, Hamilton Brook Smith Reynolds can obtain effective long-term protection for our clients, both domestically and around the world.
Examples of our experience in the medical device field include patenting a minimally invasive surgical device for the treatment of obesity and control of diabetes, infrared thermometers, robotics for use in computer-aided surgery, and a device that detects breathing and body movements while radiation is administered to lung cancer patients. We have obtained patents for a portable product that uses a drop of blood or saliva to detect certain diseases and conditions within minutes as well as systems that model a specific patient's cardiac system to predict disease progression and aid in formulating the best approach to the patient's care, limb prosthetics, and a suppository insertion device. Our firm has also assisted in patenting an orthopedic pillow that provides axillary support to patient.
Our litigation experience includes:
Represented a medical device manufacturer in both offensive and defensive patent litigations against a major rival.
Negotiated a settlement of an alleged infringement claim against a medical device manufacturer that resulted in a cross license of limited scope, thereby removing a cloud over our client's entire business.
Enforced a patent on gel bean bag positioners against a market place competitor in the District of Massachusetts.
Represented a biotechnology company in a dispute with another company regarding ownership of patent rights. We developed an informal litigation approach in which both sides presented evidence and view points over several months which resulted in a favorable settlement for our client in an amicable context that enabled our client to have continued business relations with the other party.
Represented a leading maker of data storage devices against a "Non-Practicing Entity" that involved filing a declaratory judgment action in a favorable jurisdiction and aggressively pursuing non-infringement defenses. The strategy resulted in a very favorable settlement for our client early in the litigation.
Represented a large international software company in an action brought in the Eastern District of Texas by a Non-Practicing Entity that resulted in a favorable settlement after a period of focused discovery.
Represented a manufacturer of medical testing equipment in patent litigation against a competitor. The client obtained a judgment of infringement and a permanent injunction against the competitor.
Defended a company accused of patent infringement and achieved a favorable settlement as a result of an aggressive discovery strategy which questioned the enforceability of the asserted patent.
Represented the patent owner in an infringement action involving genetic diagnostic testing procedures which included a contempt motion to enforce an injunction entered against the defendant. The defendant agreed to an expanded permanent injunction and a substantial payment toward our client's attorneys' fees.
Represented software developers in an action brought in the Eastern District of Texas and other jurisdictions by a Non-Practicing Entity.
Represented a manufacturer of medical testing equipment in patent litigation against a competitor. The client obtained a judgment of infringement and a permanent injunction against the competitor.
Represented trademark owner in infringement action in the medical device industry. We reached settlement before the defendant answered the complaint, under which the defendant changed its corporate and domain names and stopped it use of our client's trademark.
Defended a manufacturer of oxygen flow valves in a trade secret, trade dress and unfair competition action in the District of Indiana. After a two-day evidentiary hearing, the judge refused to enter a preliminary injunction, and as a result, the plaintiff voluntarily dismissed all of its claims, thereby enabling our client to continue business and become the leading company in the field.
Represented a major medical diagnostic service provider in connection with a patent application involving a nucleic acid. We developed a strategy that resulted in the issuance of patents on noninterfering subject matter, without the expense of an interference.