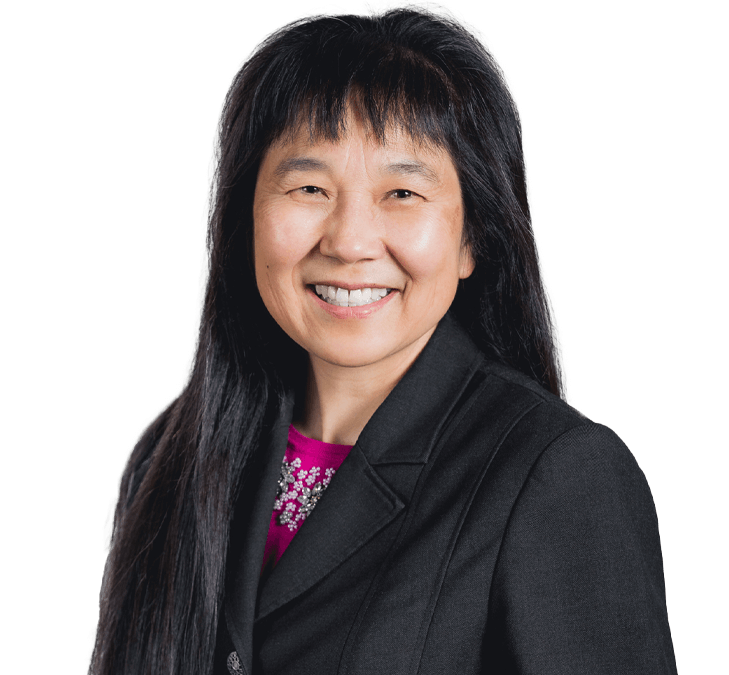 Mary Lou Wakimura
Principal
Chair of the Board of Directors
Concord Office
For over 30 years, Mary Lou has assisted clients with patent preparation and prosecution, copyright registration, and portfolio management.
Mary Lou's approach with clients is to learn their business goals and then strengthen their positions in their industry by developing strong intellectual property strategies.
She has particular experience with computer-related technologies and systems relating to imaging, video applications, mobile applications, machine learning, various platforms (cloud based, SaaS) virtual currency, solid modeling, simulations and mathematical models. Mary Lou's expertise spans to medical systems, bio/chemical analyses and processing including bioinformatics and medical diagnostics, alternative energy. Additionally her patenting expertise includes social networks and associated operations, and electro-mechanical matters, with and without a software component.Mary Lou's practice also includes preparing infringement opinions and conducting due diligence directed to computer and software technologies. She advises on open source software licenses and other software licensing agreements. For example, she reviews or prepares IP License Agreements with ongoing software development, End User License Agreements (EULAs), Field Service Agreements for software installed on specific equipment, and Software Developer/Consultant Agreements.
Credentials
Bar Admissions
U.S. Court of Appeals for the Federal Circuit
U.S. District Court, District of Massachusetts
U.S. Patent and Trademark Office
Massachusetts
Education
B.S. in Applied Math and Computer Engineering, University of Colorado
J.D., University of New Hampshire Franklin Pierce School of Law
Practice Areas
Copyrights
Counseling
Design Patents
IP Intelligence and Audits
Licensing
Open Source Software Counseling
Patents
Trade Secrets
Technologies
Artificial Intelligence
Bioinformatics
Biotechnology & Life Sciences
Blockchain
Chemical Engineering
Clean Technology
Computer Hardware
Computer Software
Electrical Engineering
Internet of Things
Mechanical Engineering
Medical Devices
Mobile
Network Infrastructure
Telecommunications
Certifications
Black Duck Certified Open Source Legal Professional
Speaking Engagements
"Managing Open Source to Maximize Opportunity and Minimize Risk," UNH Franklin Pierce School of Law Reunion Weekend, October 1, 2021
"AI and Precision Medicine: IP and Licensing Opportunities," AUTM Webinar, October 29, 2020
"The Future of Blockchain Technologies," Roundtable Discussion at the LES Annual Meeting, Phoenix, AZ, October 22, 2019
"Hot Topics in IP and Technology: Open Source Software,"UNH Wildcatalyst Seminar Series, Durham, NH, September 26, 2019
"Intellectual Property Considerations for Protecting Your Company's Innovations," MIT Enterprise Forum, Cambridge Innovation Center, March 6, 2019
"AI and Precision Medicine: Growing IP Licenses and Assets," AUTM Annual Meeting, Austin, TX, February 11, 2019
"Strategies to Reap the Benefits of Software Patents in an Open Source Software Environment" Hamilton Brook Smith Reynolds Webcast, March 29, 2018
"Strategies to Reap the Benefits of Software Patents in an Open Source Software Environment" 2017 Black Duck FLIGHT Conference, Boston, MA, November 8, 2017
"Innovating Outside the Patent: Copyrights, Trademarks and Software" Association of University Technology Managers' (AUTM) Eastern Region Meeting, Boston, MA, October 3, 2017
"Smart Cyber Security, Patent and Trade Secret Protection for Startups," MIT Enterprise Forum of Cambridge/Hamilton Brook Smith Reynolds Lecture, Cambridge, MA, November 17, 2016
"Strategies for Commercial Software Developers Using Open Source Code in Proprietary Software," Hamilton Brook Smith Reynolds Webcast, October 4, 2016
"Which U.S. Patent Applications Are Getting Granted," Association of University Technology Managers' (AUTM) Eastern Region Meeting, Philadelphia, PA, September 29, 2016
"Block Chain Innovations are Changing the Digital World," Hamilton Brook Smith Reynolds Webcast, March 30, 2016
"Engineering & Intellectual Property Law," Tau Beta Pi 2015 Convention, Providence, RI, October 29, 2015
"What Not to Patent: Steps for Strategic IP," MIT Enterprise Forum of Cambridge Webinar, October 22, 2015
"10 Intellectual Property Considerations for Protecting Your Company's Innovations," MIT Enterprise Forum of Cambridge/ Hamilton Brook Smith Reynolds Lecture, Cambridge, MA, October 14, 2015
"Strategies for Managing Open Source Software," Hamilton Brook Smith Reynolds Lecture, Cambridge, MA, May 20, 2015
"Intellectual Property Strategies for Start-ups," Hamilton Brook Smith Reynolds Lecture, Boston, MA, September 25, 2014
"The Revival of the Design Patent - A Look at Design Patents and the Implications of Apple v. Samsung," Hamilton Brook Smith Reynolds Lecture, Waltham, MA, April 24, 2013
"A Better Plan for Software Technology Rights", WPI Lecture, Worcester, MA, January 31, 2013
Professional Associations
American Bar Association
Asian American Lawyers Association of Massachusetts
Boston Patent Law Association - Chair of the Ad Hoc Diversity & Inclusion Committee
Association of University Technology Managers
Licensing Executives Society
Massachusetts Bar Association
Tau Beta Pi, the National Engineering Honor Society